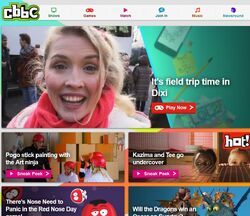 The CBBC Website refers to the CBBC (or the childrens) portion of the Official BBC website, which has been part of the site, in different forms, since it was first started. The site, now found at "BBC.co.uk/CBBC" had "BBC/Children's" as its address. The site is designed for CBBC viewers to get information about current and upcoming shows, presenters and events, to get the weeks programming schedule and there are also a number of activities, quizzes and games to play.
The site has gone through many different designs over the years some just a colour change or a slight rearrange. There are some major design changes including the orginal design, CBBC tower, the Bud design and the modern design. Old version of the site have been archived via the web archive and can be viewed by clicking the link at the bottom of the page.
Gallery
External Links
The CBBC url is "www.bbc.co.uk/cbbc" but use to be "www.bbc.co.uk/childrens".
Community content is available under
CC-BY-SA
unless otherwise noted.