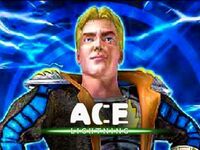 Ace Lightning is a children's television show co-produced by the CBBC and Alliance Atlantis, which has been broadcast in the United States as well as in the United Kingdom and Australia.
The show was filmed in Canada, but the program was set in America. It ran for two seasons, and spawned several books, including a yearbook for the year 2003, an activity book and a companion to the series. A computer game based upon the show was released in 2002.
Plot
Ace Lightning follows the life of Mark Hollander, a boy who has recently moved to a town called Conestoga Hills, in the United States, with his parents. While Mark is playing the computer game Ace Lightning and the Carnival of Doom, on a stormy night, a lightning bolt strikes the satellite dish on Mark's house, bringing the characters from the game to life. Ace Lightning, the hero of the game, enlists Mark to help him find the pieces of the Amulet of Zoar which will allow him to send Lord Fear and his minions back to prison in the Sixth Dimension.
The game soon turns into a series of dangerous events; ultimately leading to the moment Mark fears the most, notably Game Over. Over the course of the first season, either Ace or Lord Fear gain pieces of the Amulet, summoning allies to help them. Mark's social life is often affected by the battles, leading him to go through two girlfriends by the end of the first season.
Lord Fear eventually gains the Amulet and the Lightning Knights are drained of their energy. Mark locates the Amulet in the Haunted House and shatters it, sending all of the villains back to the Sixth Dimension - with the exception of Lady Illusion, who falls in love with Ace over the course of the season and betrays Lord Fear.
Links