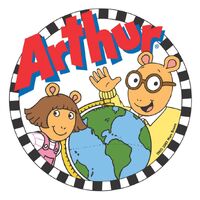 Arthur is a long running Television show which has run on CBBC for many years. The show is an American and Canadian educational television series for children, that airs on PBS in the United States.
Plot
Arthur Read, the series' titular character, is an eight-year-old brown aardvark who lives in the fictional town of Elwood City. He is a third-grade student at Lakewood Elementary School. Arthur's family includes two home-working parents, his father David (a chef) and his mother Jane (an accountant), his two younger sisters, Dora Winifred (D.W.), who is in preschool, and Kate, who is still an infant, and his dog Pal. Arthur also has several friends who come from various ethnic and socio-economic backgrounds, and he also occasionally meets with members of his extended family as well.
In the TV series, Elwood City is portrayed as a largely suburban area which bears a strong resemblance to the Boston area; the TV series is partially produced by WGBH. Furthermore, Elwood City's professional baseball team, the "Elwood City Grebes", appears to be a fictional representation of the Boston Red Sox. The episode "The Curse of the Grebes" in Season 10 clearly references baseball lore such as Curse of the Bambino. The same episode also refers indirectly to the rivalry between the Red Sox and the New York Yankees, as the Grebes have a fierce rivalry with the Crown City Kings during the World Championship, a reference to the World Series. Crown City, as featured in other episodes, is apparently a fictional representation of New York City. In one episode, it is inferred that an ice hockey team sporting the WGBH logo and the Boston Bruins' team colours on their uniforms are Elwood City's professional (possibly NHL) hockey team.
Related links
Community content is available under
CC-BY-SA
unless otherwise noted.