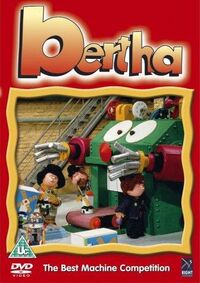 Bertha is a British stop motion animated series that aired on CBBC from 1 April 1985 to 18 June 1986. It was animated by Woodland Animations and featured Roy Kinnear as the narrator.
The entire series was released on two DVDs in Australia by Reel Entertainment, namely The Best Machine Competition and Bertha's Birthday.
Plot
The series is set in an industrial estate occupied by the Spottiswood & Company factory, a small manufacturing plant producing a wide range of goods ranging from cuckoo clocks to windmill money boxes. Each episode focuses on a machine called Bertha that can produce any item requested of her. In each episode the factory experiences a crisis affecting its daily production schedule, which Bertha invariably solves with the help of her factory worker friends.
Episodes
| # | Title | Summary |
| --- | --- | --- |
| 1 | The Great Painting Job | Mr Sprott's assistant Tracy has designs a small robot, called Tom - Talk Operated Machine. |
| 2 | The Windmills | Bertha is making windmill moneyboxes but Roy and Nell discover that there is no key to unlock them. Meanwhile, Flo has lost her purse whilst out during the lunch-break. |
| 3 | Mouse in the Works | A Mouse is loose in the factory. Bertha is making Jack-in-the-boxes but several are faulty and Roy and Tom have to chase the springing jacks around the factory floor. |
| 4 | The Best Machine Competition | Mr Sprott and Tracy design a new toy to be made on another machine but they keep falling apart. Good old reliable Bertha is brought to the rescue. |
| 5 | Tom Gets Lost | In the Despatch Department a magnet affects Tom's circuitry. Confused he sets off on a tour of the factory. |
| 6 | The Flying Bear | One very hot day, Bertha is making inflatable plastic bears, which get larger and larger. Bertha finally produces a bear that is enormous and floats to the roof of the workshop. |
| 7 | The Tea Nurse | The production line is running smoothly until Bertha stops due to a faulty lever. When Ted spots Mrs Tupp bandaging Flo's cut finger he gets an idea. |
| 8 | More Speed, Less Work | Mr Duncan, the works foreman, does a Time and Motion study and comes up with conclusive proof that Bertha should be replaced. |
| 9 | The Big Order | A big order for springs requires special twangy steel. Bertha produce weird and wonderful shaped springs but they don't look anything like they should. |
| 10 | The Burglars | One night two burglars accidentally switch on Bertha who becomes 'alive' to what is happening. Can she and Tom stop the thieves making off with the wages? |
| 11 | Bertha's Birthday Party | Miss McClackerty, discovers that today is in fact, Bertha's birthday! Bertha is oiled, polished and spruced up and given the day off by the Manager. |
| 12 | The Big Sneeze | One bitter winter's day Bertha is so cold that she starts to produce beach balls encased in blocks of ice. Poor Bertha has caught a very bad cold. |
| 13 | Tom's New Friend | Tom thinks a new hot drinks dispensing machine is a new robotic friend. He presses button after button and causes the machine to malfunction. |