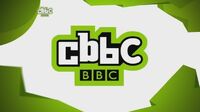 The CBBC Channel is a BBC television service aimed at 6 to 12 year olds. It complements the CBBC programming that continues to air on BBC One and BBC Two.
Launched on 11 February 2002, it broadcasts from 07:00 to 19:00 on Freeview, cable, IPTV and digital satellite, occupying the same bandwidth as, but a different channel position from BBC Three. CBeebies is its sister service for younger children.
The channel was named Channel of the Year at the Children's BAFTA awards in November 2008.
Programs