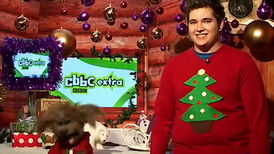 Christopher David Johnson (or Chris Johnson), born 25 January 1991, is a presenter for CBBC. His first television appearance was for BBC Three, introducing Family Guy. He began presenting on the CBBC Channel in January 2010. Chris also has a strong Youtube following under the user name ChrisIsSnowie.
History
Since Oucho was cut-out Ed Petrie was left to present with a new person, this person was Chris Johnson. As soon as Chris settled in he made a bold point that he is a massive Doctor Who fan (and now also works for the official doctor who magazine) and a tendency to say Hello in a really long weird way. This became his catchphrase
He did present with London Hughes (due to the depature of Chloe Bale) on weekends. Since London left, he often presents with Dodge or Hacker.
Nicknames - Yonko and Moon Face.