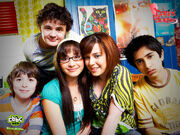 Dani's House is a UK BAFTA-nominated Series produced BBC children's sitcom, starring actress Dani Harmer. It first aired on BBC1 on 26 September 2008. Three series have now aired, each consisting of 13 episodes, with a further two series commsisioned in the coming years. The series stars Dani Harmer as the title character.
Plot
Harmer plays the eponymous lead role of a 17-year-old actress continually left in charge of her annoying younger brother Max, his none-too-bright sidekick Ben and their youngest sibling, "the baby from hell". As she cannot go out with her friends, Toby (later replaced by Jack) and Sam, the trio end up spending most of their time in Dani's house in a den hang-out.
Dani and her pals assume that their antics are being broadcast to the world and beyond. In fact their zany activities are being closely observed from on high by a pair of aliens, Zang and Zark, who are hooked on Dani's show, and who are played by Dani and Toby's actors.
Links