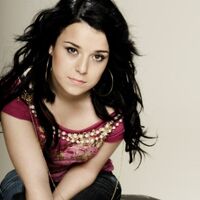 Danielle Jane "Dani" Harmer (born 8 February 1989) is an English television actress and singer.
Harmer is best known as the title character in the UK television programme The Story of Tracy Beaker/Tracy Beaker Returns, and as Molly Venables in the BBC sitcom After You've Gone.
Harmer also has her own TV show called Dani's House, and has also occasionally presented continuity clips on the CBBC channel. Her debut album, Superheroes, is thought to have been dropped.
CBBC Shows
External Links