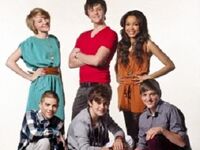 Friday Download is a British children's television programme that airs on CBBC. The series gives the viewers a download feature on the latest trends, such as in television programmes, films, fashions, video games, dance routines and many more.
Each of the presenters take up a different download to talk about. As the title of the show suggests, the series airs every Friday on the CBBC Channel. The first series premiered on 6 May 2011.
Presenters
"Friday Download" is presented by famous/popular British teenagers from TV or other with the age range of 14-16.
Georgia Lock is best known for playing the title character in CBBC show Sadie J
Guest Presenter Dani Harmer is best known for playing Tracy Beaker on The Story of Tracy Beaker and Tracy Beaker Returns and also herself in Dani's House.
Dionne Bromfield is a singer known also for being Amy Winehouse's goddaughter
Aidan Davis is known for his amazing dance moves which got him to the Britain's Got Talent finals
Tyger Drew-Honey is best known for his acting as Jake Brockman on the popular BBC TV sitcom Outnumbered
Richard Wisker is best known for portraying Liam O'Donovan on Tracy Beaker Returns
Ceallach Spellman is best known for playing Harry Fisher on BBC drama Waterloo Road. Ceallach is respectivly the most likley main host.