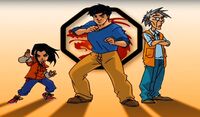 Jackie Chan Adventures was an animated television series chronicling the adventures of a fictionalized version of action film star Jackie Chan. Many of the episodes contain references to Chan's actual works. This series ran on Kids' WB! from September 9, 2000 to July 8, 2005 for a total of 95 episodes, or 5 seasons. During its run, it was also shown on Cartoon Network, and afterwards, its reruns landed on Disney XD. It was shown on CBBC in the UK.
CBBC
Jackie Chan Adventures was part of the orginal line-up of The Saturday Show when it launched on Saturday 22nd September 2001. Each episode would then be repeated on CBBC1 on Wednesday afternoon's from 26th September 2001.
Plot
Jackie Chan is an amateur archaeologist living above his uncle's antique shop in San Francisco, California when he comes across a magical artifact on a dig. This brings him to the attention of his old friend, Captain Augustus Black, who is in charge of a secret governmental organization known as Section 13, as well as the criminal organization known as the Dark Hand, led by Valmont.
The artifact he found is a shield, which contains one talisman from a set of twelve. This sets Jackie, his uncle (Uncle), his niece (Jade), and allies on many adventures involving magic, danger, and often the fate of the world itself.
Links