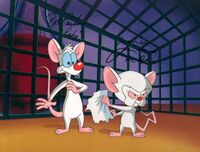 Pinky and the Brain is an animated television series and spinoff of Animaniacs starring Pinky and the Brain. The show ran from 1995 to 2001 on Kids' WB and CBBC in the UK. The pair later spun off into their second and last series, Pinky, Elmyra & the Brain and paired with Tiny Toons star, Elmyra Duff.
Plot
The bulk of every episode involves one of Brain's plans for world domination with Pinky's assistance and the ultimate failure of that plan. One centers on his rival Snowball's plan to take over the world using Microsponge.Another episode features Brain's single day where he tries to do anything but take over the world: in the end, a group of people vote that he should take over the world on the one day he does not want to.
There is very little continuity between episodes outside of the common fixtures of the mice, though some plans for world domination from early episodes are subsequently referred to in later seasons (for example, Brain's "human suit" used in "Win Big"[6] reappears when Brain faces Snowball in "Snowball").
Links
Community content is available under
CC-BY-SA
unless otherwise noted.