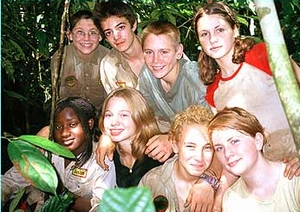 Serious Jungle aired in 2002. Chosen from 1,000 applicants, eight adventurers faced a mission to build a feeding platform in the heart of the Borneo jungle, to help return orang-utans to the wild (many of them rescued after being illegally kept as pets).
They were in the rainforest for three weeks. The Serious Jungle eight were accompanied by expedition leaders Bruce Parry and Emma Jay.
The expedition took three weeks and took place 2002, it was led by Bruce Parry and Emma Jade.
Adventurers
Daniel Harrison: Age: 12
Imogen Forbes: Age: 13
Luke Gibson: Age: 14
J.C. Lee: Age:14
Laura Baker: Age: 14
Susan Wokoma: Age: 14
Larry Downing: Age: 15
Hannah Davis: Age 15
Related Articles
Community content is available under
CC-BY-SA
unless otherwise noted.