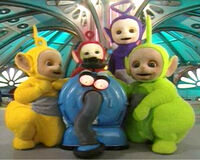 Teletubbies was a BBC children's television series targeted at pre-school viewers and produced from 1997 to 2001 by Ragdoll Productions and 2015 to present by Darrall Macqueen.
It was created by Ragdoll's creative director Anne Wood CBE and Andrew Davenport, who wrote each of the show's 365 episodes. It originally starred Dave Thompson as Tinky Winky (1997), Simon Shelton as Tinky Winky (1998 - 2001), John Simmit as Dipsy, Nikky Smedley as Laa-Laa and Pui Fan Lee as Po, Along with Mark Dean as Noo-Noo, Toyah Wilcox as The Female Narrator, Eric Sykes as The Scary Lion, Alexandra Hogg, Alex Pascall, Gary Stevenson, and Rudolph Walker as The Voice Trumpets, Mark Heenehan as a additional voice, Penelope Keith as The Bear with Brown Fuzzy Fur, and Robin Stevens as The Puppet Man. The program's original narrator was Tim Whitnall. Teletubbies first aired on 31 March 1997, was syndicated in the United States on the Public Broadcasting Service (PBS) public television on 6 April 1998 and aired until 19 June 2005. The series was revived in 2015 by CBeebies with a new look and a new cast starring Jeremiah Krage as Tinky Winky, Nick Kellington as Dipsy, Rebecca Hyland as Laa-Laa, and Rachelle Beinart as Po, along with Victoria Jane as The Noo-Noo, Berry as The Baby Sun, Eric and Ernie actor and comedian, Daniel Rigby as the narrator replacing Tim Whitnall from the original series, along with Misfits actress and singer, Antonia Thomas as The Female Narrator, presenter, actress, author and BBC Radio 1 DJ, Fearne Cotton, and Academy Award winning actor, Jim Broadbent as The Voice Trumpets, Absolutely Fabulous actress, comedian, musician and singer, Jane Horrocks as The Tubby Phone, Thomas and Friends voice actress, actress and singer, Teresa Gallagher as The Tiddlytubbies, and The Octonauts voice actor and comedian, Rob Rackstraw as additional voices as the voice talent on the show. Luisa Guerreiro as an understudy actress, Olly Taylor as Noo-Noo, Ralph Reay as additional voices, along with comedian, actor, writer, author and television personality, David Walliams and singer, actress and television presenter, Rochelle Humes were later added to the cast in 2017.
Plot
The program features four colourful main characters: Tinky Winky, Dipsy, Laa-Laa, and Po, who live in a futuristic dome (the "Tubbytronic Superdome") set in a landscape of rolling green hills. The environment is dotted with unusually talkative flowers and periscope-like "voice trumpets".
The only natural fauna are rabbits (although birds are often heard, particularly blackcaps and wrens[citation needed]). The climate is always sunny and pleasant, save for occasional inclement days with rain and puddles, and snow at Christmas time. A huge windmill that is shaped like a pinwheel dominates the background landscape and within a random point of the episode, it starts spinning fast and starts a "magical event". Magical events that have been featured in various episodes are:
The Animal Parade
The Singing Man in the Pink House
The Tap Dancing Teddy Bear
The Magic Tree
The Three Ships
The Lion and Bear
Little Bo Peep
See Also
Community content is available under
CC-BY-SA
unless otherwise noted.