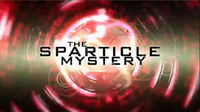 The Sparticle Mystery is a British science fiction television serial produced by Sparticles Productions for CBBC.
Plot
The series follows a group of ten children within modern Britain, where an experiment at a Large Hadron Collider-like facility, named the Sparticle Project, goes wrong, sending all persons aged 15 and over into a parallel dimension at exactly 11:11am.
The children travel to the Sparticle Project in attempt to bring back the adults and re-align the two dimensions. The series, which had a budget of £3 million, was filmed in and around Bristol, with the final episode filmed at the ISIS neutron source particle accelerators, near Didcot.
Community content is available under
CC-BY-SA
unless otherwise noted.