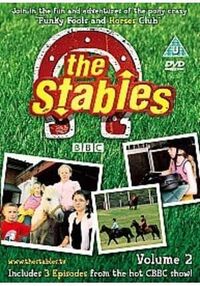 The Stables was a Children's BBC Television series which followed the coming and goings of a Stepney Bank Stables in inner city Newcastle.
Premise
The series is a documentary which follows a group of children, who are interested in horses and riding as they visit a stables in Newcastle to help out and to ride.
'The Stables' features every day life at this very special project. There are no actors and no scripts with cameras following the young people to horse shows, fundraising events, and even into their own homes.
The format of the programme is remarkably simple but remains charming because the youngsters' wit and enthusiasm is so infectious and amusing. It is so different from anything else that is on the TV at the moment and is starting to generate interest from all over the country.
This was a remarkable opportunity for the young people and one that has seen them grow in confidence and self-esteem. It has also helped raise awareness of our work and may lead to other similar projects being developed in the future. The Stables constantly has waiting lists of those wishing to use its services and it would be wonderful to think that one day every town could have its own, 'Inner City Community Horse Project.'