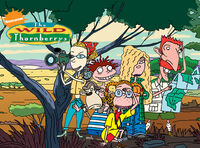 The Wild Thornberrys is American animated television series that aired on Nickelodeon. It was rerun in the USA on Nickelodeon and occasionally Nicktoons Network until 2007. Wild Thornberrys also aired on the BBC's CBBC
Plot
The series follows the Thornberrys, as they travel the world in their Communications Vehicle, referred to throughout the show as their "Commvee," looking for rare animals to film. Their second youngest child, Eliza, is the main character and has the power to speak to animals because of an encounter with an African shaman, Lopsugne Sjoungboun Qeisha. She can speak to the family's pet chimpanzee, who is also her best friend. She travels the world with her family and usually helps animals solve their problems. The show was aired on Nicktoonsters in Britain.
At the beginning of every episode, Eliza recites a monologue, which is then followed by the theme music. It states the basic premise of the show, and provides a brief back story.
Community content is available under
CC-BY-SA
unless otherwise noted.