The topic of this page has a wiki of its own: UBOS Wikia.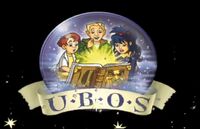 The Ultimate Book of Spells, or UBOS, is a Canadian children's animated television series which began production in 2001. The series aired on YTV in Canada, Toon Disney in the United States and on CBBC and Pop in the UK, but ran for only 26 episodes.
Premise
Cassy, Verne & Gus are three gifted students who go to an enchanted school where they learn about magic and how to use it. One day they receive a strange talking book in the mail. The book says his name is UBOS (Ultimate Book of Spells) and together they must journey to the center of the Earth to stop Zarlak.
Zarlak is a powerful wizard who is stealing all of Earth's magic so he can ultimately escape his prison, at the center of the earth, into which he was banished after a great battle. This begins a journey of a lifetime for the three students – one they will never forget. They have to juggle school life and fighting the forces of evil with only each other and UBOS for help.
UBOS is actually Cassy's great-grandfather in disguise, as proven by several episodes, for example, after witnessing the legendary battle which ended with Zarlack's banishment, UBOS says to Cassy, "Come, my child." just like her great-grandfather. In another episode, UBOS said that Cassandra the first helped "m(e) – I mean, your great-grandfather" to Cassy and finally admitting it to Verne whilst not being himself.
Episodes
Ultimate Book of Spells or UBOS ran for one series from September the 12th, 2001 – April the 7th, 2002 consisting of a total of Twenty six episodes.
External links